China's rural tourism efforts at FAO
17 Maggio 2016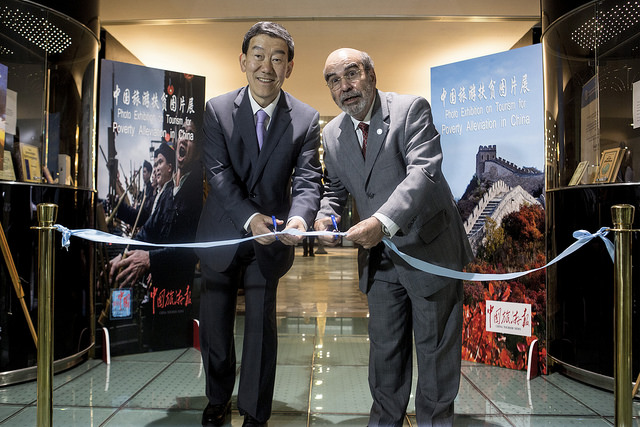 Director-General stresses importance of tourism for rural employment.
Tourism can contribute to rural development by creating employment opportunities in areas where other economic activities are often limited, FAO Director-General José Graziano da Silva said today at the opening of a photo exhibition organized by the Permanent Representation of the People's Republic of China to FAO.
Graziano Da Silva said the exhibition is a good opportunity to share China's experiences and practices with other FAO member states and showcase common progress in poverty reduction. He also noted tourism's contribution to Sustainable Development Goals (SDGs
The FAO Director-General stated rural tourism can offer off-farm employment opportunities, noting the need to diversify the rural economy to achieve sustainable development and poverty alleviation. He also referred to FAO's work to promote decent rural employment for young people.
For his part, the Ambassador and Permanent Representative of the People's Republic of China to FAO, Niu Dun, noted that the Chinese government has designed training programs for rural tourism village chiefs, owners of farm-stay houses and especially for women who are staying in the villages to improve their skills in tourism services.
"We have also raised awareness of sustainable development delivering the message of 'Lucid waters and lush mountains are invaluable assets'," the Ambassador said. "In addition, the development of rural tourism also helps preserve the heritage and culture.
The exhibition, which will be on display at FAO headquarters until 21 May 2016, coincides with the first World Conference on Tourism for Development in Beijing, China (18-21 May 2016). This event is jointly organized by the Government of the People's Republic of China and the World Tourism Organization (UNWTO) with the aim of advancing the contribution of tourism to the achievement of the SDGs.
The China National Tourism Administration (CNTA) and the China State Council expect that by 2020, three million tourism businesses will exist in the country and will receive two billion visitors annually. This in turn will help lift two million of China's rural population out of poverty every year.
The United Nations has declared 2017 International Year of Sustainable Tourism for Development in recognition of the importance of international sustainable tourism as, among other things, an effective means for fighting poverty and for helping to protect the environment.
(Fonte articolo http://www.fao.org/about/who-we-are/director-gen/faodg-news-archive/detail/en/c/414693/)